PVD coating machine AR anti-reflective optical film is mainly used in LCD displays (as opposed to LR anti-reflective optical film) in portable products, such as car displays, mobile phones, DVD players, digital Video, digital cameras, etc. Yes. Because portable products are exposed to the outdoors for a long time (compared to household LCD TVs that are used indoors for a long time), they are more affected by external light, so LCD displays embedded in such products need to use better anti-radiation Optical film, and AR type can meet this requirement.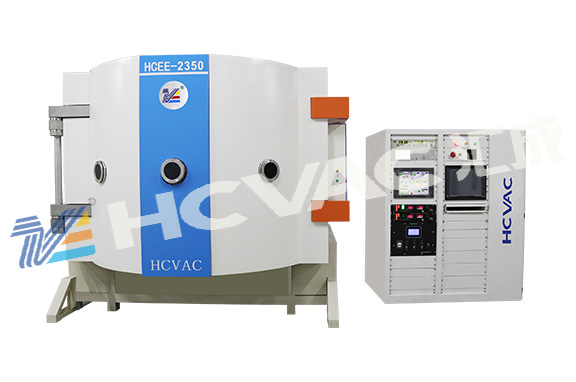 The AR anti-reflective optical film of PVD coating machine generally has a reflectivity below 0.3%, or even 0.1%, which is a low reflectivity level. Therefore, the structure of AR-type optical film is more complicated, including TAC substrate optical film, hard film Coating layer (Hard Coat), AR layer (including several layers of high and low refractive index materials), and antifouling layer make the optical film high in cost and low in mass production.
However, it is worth noting that different application products do not use LCD displays and require vacuum coater AR-type optical films to have other specifications. For example, car LCD displays require better anti-reflection functions because of the corresponding external environmental variables. Therefore, it is necessary to consider the characteristics of heat and humidity resistance of the optical film of the vacuum coating equipment. For example, in general automotive product specifications, the temperature adaptation range is required to fall within the range of -40°C to 85°C. Similarly, the AR anti-reflective optical film of the vacuum coater must also meet this standard.
Recently, the market demand for terminal products corresponding to small and medium-sized LCD panels has increased significantly, especially for PNDs that have been used outdoors for a long time. DIGITIMES estimates that the CAGR will be as high as 46% from 2006 to 2010; in addition, mobile phones with more small and medium-sized LCD panels are used The use is also due to the large-scale development of mainstream sizes, from 1.8 inches to 2 inches to 2.4 inches to 2.8 inches. With the increasing volume and area of small and medium-sized LCD panels, AR anti-reflective optical films for
PVD coating machines
will also have growth potential in the future.